Bello Coffee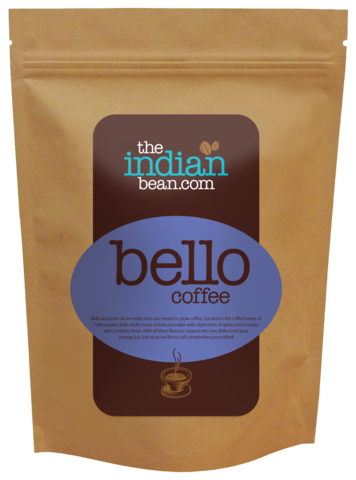 Bello coffee is every bit as witty, stylish, strong and smooth as its name suggests. Practicing organic Agriculture for the last 5 years and in transit certified organic by ksoca (karnataka state organic certification agency) which follows NPOP standards. We believe in making our own compost ,liquid manures and hold reforestation projects to maintain the equilibrium of this delicate ecosystem that we reside in.
In our effort we reforest and plant over a 1000 native fruit bearing/flowering trees and shrubs every year. The coffee bushes are grown under natives such as Javaplum, figs, jackfruits, over 10 varieties of citrus, and many other hardwoods. 
The plantation is within the Western Ghats;a paradise for a variety of high quality fruits, spices, and home to jungle trees, birds and animals that maintain the biodiversity of the region.
Bello coffee exhibits notes of mild chocolate, hints of spice and toast with a lemon finish. The coffee will often give a whiff of sweetness reminiscent of pulpy fruit, which is balanced with rich acidity. The aroma of mixed spices and zesty fruit makes for a well-balanced yet complex cup.
 Que Bello!
Coffee Type
Single Origin, Washed Arabica
Region

 Bababudangiri range.

Country
India
Origin

 Bhadra Wildlife Sanctuary

Elevation
4,500 ft.
Varietal
Selection 795, Selection 6, Kauveri
Process
Wet
Roast

Medium  Roast

Roast Method 

Air Roasted
---
More from this collection