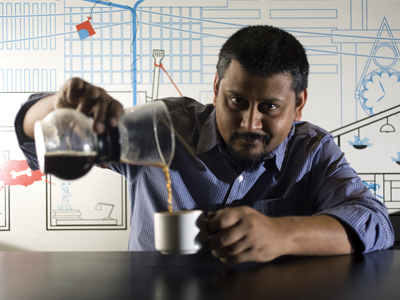 Do you know how to make a cup of coffee from coffee beans? If you are not from south India, you probably haven't had the chance to drink a good cup of filter kaapi or coffee. The coffee you probably drink at home is instant coffee and also the kind served at coffee shops. To drink authentickaapi, you will have to make a trip to a local south Indian cafe.
Kunal Ross, 32, lived in Mysore where he studied hospitality at the Welcomgroup Graduate School of Hotel Administration. "Even in a place like Mysore, you could only get a good cup of filter coffee at a restaurant that sells idlis and sambhar.
Beyond that it was tough to get a good cup of coffee.
Up north, they mostly serve instant coffee whenever you ask for a cup of coffee," he says.
Smell an idea
After a short stint in the hospitality industry, Ross moved to an advertising job in Dubai and came back to Mumbai in 2010. What got him interested in starting theindianbean.com, a company that sells coffee beans online?
While studying at Mysore, Ross often travelled to coffee-growing farms, as he was interested to see and learn how coffee was grown and cultivated. "I realized that farmers who grew coffee were not well represented," says Ross, Founder and CEO, theindianbean.com.
"In the last two decades, we have mostly been drinking instant coffee," says Ross. The popular choice of the coffee-drinking public veers towards instant coffee and only a connoisseur would ask for filter coffee.
"A great quantity of good coffee is produced in India but most of it is exported and we are left with secondary quality produce," he says. Ross decided to change the coffee consumption map by launching a niche portal.
HT Mohan, General Secretary, Karnataka Growers Federation, backs Ross's comment regarding local consumption, citing data. "India produces 4 lakh tons of coffee and only 1.2 lakh tons is used for internal consumption."
Ross has a greater motive behind his Mumbai-based venture, one that goes beyond e-commerce. It is to promote Indian coffee among coffee lovers and educate them on the finer nuances of making a good cup of coffee.
Ross is using his web-store to popularise the concept. Besides this, he also engages with people on social media.
Coffee chain
Ross sources coffee beans directly from seven to eight farmers in Kodaikanal and Coorg. Currently, his product catalog has only two varieties—Appa's from Coorg costing Rs. 270 and Frowner's coffee from Kodaikanal priced at Rs. 350, both for 250 gram packs.
Ross is introducing another product this month called Watapi, which comes from the hills close to Mysore. "Watapi is grown amidst a forest. They harvest a wholesome crop and this coffee is non-certified organic," explains Ross. It is priced at Rs. 450 for 250 grams and Rs. 700 for 500 grams.
"Coffee is sold in tons, but I don't have the bandwidth to buy so much at a time. So I buy small quantities," he explains. Luckily for him, farmers were forthcoming and readily agreed to sell him smaller quantities needed to kick-start the business.
Once sourced, coffee is stored at an outsourced storage unit in Mysore where it is roasted, packaged and sent back to the startup. Ross is keen to offer a superior product to his customers. Coffee beans are sent to a laboratory in Bengaluru to test parameters of quality. "Our objective is to be able to provide freshly roasted coffee to our customers within three days of it being roasted," Ross says. He has not achieved this goal yet because demand has not scaled up.
The roaster, Ross explains, can roast 20 kilograms of coffee beans at a time and costs the company Rs. 35 to Rs. 65 to roast a kilogram. "Setting up a roaster is a huge investment," Ross says. This will be his next big capital investment and in all likelihood will be an expense of about Rs. 10- Rs. 15 lakh. "It will happen only two-three years from now," he says.
The company has been selling in Mumbai only to date, offering a free delivery service. From February 2013, it plans to sell across India and is tying up with logistics companies to facilitate its expansion plans. Ross is also in talks with coffee shops in Mumbai to market his brand of coffee. Like Leaping Windows in Versova which has theindianbean.com's coffee beans on its menu as well as serves coffee made from their beans.
Appa's the favorite
So far the firm has invested about Rs. 5 lakh to set up operations. It went live in October 2012 and sells about 80 kilograms of coffee a month, Appa's being a more popular brand, Ross informs. "Appa's appeals more to Indian taste buds and goes well with milk. It is priced cheaper, which could be a reason for its popularity," he feels.
Until November 2012, the business was bootstrapped after which he got a minority investor Anirban Sen on board. Sen has known Ross from college and has invested as an individual entity. He anticipates that hereafter theindianbean.com will look more at debt than equity to grow the business.
"By year five or six, I see a fair valuation coming," Sen says. The startup is cash flow positive but looking to break even on capital costs in two years.
The dark side
For Sen, operating in a niche category is a foreseeable challenge. "Filter coffee, priced at a premium, as a category is almost non-existent in the country so far. It is an uphill task when you have to create a segment that is almost not there," Sen opines.
Ross is in sync with Sen's foresight on this being a hurdle. As a counter measure, he tries to be as proactive as possible with customers, answers questions on the product and even advises them on brewing techniques. "There is a growing curiosity among people now about Indian coffee," says the CEO.
Mohan too feels there is plenty of scope for Indian coffee in India. "The new generation is quite fond of coffee and that creates significant scope. What Indian coffee needs is more promotion," he notes.
Ross knows the business will have a long gestation period. "Since the market is not as developed, you need to sell a lot of coffee to make significant profits," he says. Also Frowner's is non-certified organic. "Getting a certification is expensive," he mentions, also a challenge faced by those in the industry.
Nevertheless, that has not stopped Ross from outlining his vision for theindianbean.com and he envisages it to be a household item like packaged instant coffee.
Eventually, Ross hopes you will ask for an Appa's or Frowner's when you order at a coffee shop.
http://entrepreneurindia.in/start-ups/kunal-ross-brews-a-hot-cup-of-coffee-with-the-indian-bean/18219/